Overview of Services
Biomarkers are playing an increasingly important role in clinical and translational research, especially as we
move toward an era of personalized medicine in both the prevention and treatment of disease. The Biomarker
Analytic Research Core (BARC) — the central laboratory for the ICTR and the Biorepository — provides sophisticated tools and expertise for Einstein and Montefiore investigators from the initial planning stage through analysis and data output.
The services include
•

State-of-the-art mass spectrometry analysis, in particular stable isotopes,

as well as research-grade
determination of lipids, and metabolic markers for a variety of human subjects and animal model projects,
•

High-throughput robotics for semiautomated high-quality sample preparation and analysis by immunoassay and liquid chromatography–mass spectrometry (LC/MS),
•

Support for novel developmental projects featuring applications of LC/MS and two-site bead-based assays,
•

Research-quality analysis of metabolites for human and animal samples using an Olympus AU400 autoanalyzer, and
•

advanced training in analytical chemistry.
In addition to its isotope dilution LC/MS assays, BARC has already validated and made available quantitative measurement of 25(OH) Vitamin D, testosterone, and androstenedione via LC/MS. Other dual-use assays for steroids are under development, including ultrahigh sensitivity salivary cortisol, estradiol, and progesterone which will support both clinical care and research use. BARC also offers a novel method for LC/MS measurement of C-peptide, and is currently the reference lab for an ongoing clinical trial measuring insulin secretion.
All samples processed are labeled with barcoded cryolabels for easy identification. Records of samples and
data are seamlessly integrated and tracked, and are remotely accessible via a secure research database.
Leadership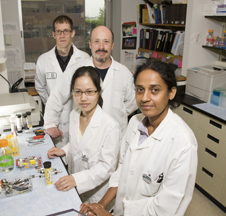 Scientific Director
Dr. Matthew Abramowitz
Matthew.Abramowitz@einsteinmed.edu
718-430-8566
Location and hours of operation
Hours
Locations

Mon - Fri
9 - 5

| | |
| --- | --- |
| 1300 Morris Park Avenue | 111 East 210th Street |
| Bronx, NY 10461 | Bronx, NY 10467 |
Links and Resources
Search available services:

View: by category alphabetically
►

RIA and ELISA list (18)
Name
Description
Price

A2 Macroglobulin ELISA, Human

Inquire

CK 18 (M65) ELISA, Human

Inquire

CK 18 Frag (M30) ELISA, Human

Inquire

DHEAS ELISA, Human

Inquire

Follicle Stimulating Hormone, human

FSH ELISA

Lab requires 60ul serum

Internal

$12.57 each




External

$25.14 each




External Affiliate

$15.71 each




Hyaluronic Acid ELISA, Human

Inquire

IL-1 beta, high sensitivity, Human ELISA

ELISA, Human

Lab requires 210ul serum/plasma

Internal

$23.37 each




External

$46.75 each




External Affiliate

$29.22 each




Insulin, rodent Chemiluminescence ELISA

Lab requires 15ul Serum/Plasma

Internal

$19.23 each




External

$38.47 each




External Affiliate

$24.04 each




Leptin Receptor, Human ELISA

Inquire

Luteinizing Hormone (LH) ELISA

Lab requires 60ul serum

Internal

$12.57 each




External

$25.14 each




External Affiliate

$15.71 each




NGAL ELISA

The neutrofil gelatinase-associated lipocalin (NGAL) ELISA has been validated for human urine.

Lab requires 25ul urine

Inquire

Pepsinogen I, Human ELISA

Inquire

Pepsinogen II, Human ELISA

Inquire

Proinsulin, Human RIA

Inquire

sRAGE, Human ELISA

Soluble form of receptor for advanced glycation end-products.

Serum or plasma - 125 µL needed

Internal

$17.85 each




External

$35.71 each




External Affiliate

$22.32 each




TIMP-1, Human ELISA

Inquire

Tissue Factor, Human ELISA

Inquire

VEGF, Human ELISA

Inquire

►

Sample Processing (7)
Name
Description
Price

CSF

Inquire

CSF Pellet

Inquire

CSF SUP

Inquire

External Sample Processing

Inquire

Industry Sample shipping prep

Inquire

Red blood cell pellet

Collected after centrifugation and removal of supernatant.

Internal

$0.50 each




External

$1.00 each




External Affiliate

$0.63 each




Sample tracking

Internal

$0.40 each




External

$1.00 each




External Affiliate

$0.63 each




►

Other Services (2)
Name
Description
Price

Protease inhibitor tubes

DRC Member (External)

$4.00 each




Internal

$4.00 each




External

$8.00 each




External Affiliate

$8.00 each




Short-term storage

Per participant for industry-sponsored studies

Inquire

►

Archived (3)
Name
Description
Price

Androstenedione, LCMS

Inquire

Short term storage- non industry/ per vial

Inquire

Testosterone, LCMS

Inquire